Tribal Real Estate Sales
Mt. Pleasant Michigan's
Tribal Member-Focused Real Estate Sales & Services
A division of
SoaringHomeSales.com
Nick Bonstelle is Proud to Serve the Local Native American Community
Providing guidance and resources even long before and after a sale for the best experience possible is what Nick brings to the table. This includes an instrumental knowledge of the SECTION 184 - NATIVE AMERICAN HOME LOAN PROGRAM. Please take time to read the below information he shares, and at any time feel free to call with questions. He is happy to help. CALL 989-600-9806 or click HERE.
Section 184 Native American Home Loan
The Section 184 "Indian Home Loan" program is a mortgage product specifically for American Indian and Alaska Native families, tribes, Alaska Villages or tribally designated housing entities. Congress established this program in 1992 to facilitate homeownership in Native American communities. With Section 184 financing you can get into a home with a low down payment, no mortgage insurance and flexiable underwriting.
If you are a potential homebuyer, Section 184 is a great product - thanks to the low-down payment requirement of 2.25% for loans over $50,000. If your loan amount is under $50,000, your down payment is 1.25%. Also, you don't have to pay a mortgage insurance premium each month. Instead, a one-time, 1% loan guarantee fee can be added to your final loan amount. Hud underwriters are familiar with the unique issues and circumstances that Native Americans face when trying to get a mortgage in Indian Country.
Basics of the Program In 1992, Congress established the Section 184 "Indian Home Loan" program. The program was designed to offer homeownership and housing rehabilitation opportunities fir eligible Native American individuals, families, tribes, and tribally designated housing entities (including Indian Housing Authorities) on their native lands and within an approve Indian area.
Why a Loan Program Specific to Native Americans? Because of the unique status of Indian lands, Native American homeownership is an under-served market. The Section 184 program was designed to improve access to capital Native Americans and provide private funding opportunities for tribal housing agencies.
How Does Section 184 Work? Hud guarantees each mortgage loan made to eligible borrowers. The loan guarantee assures the lender that its investment will be repaid in the event of a foreclosure. The borrower pays a 1% loan guarantee fee at closing, which may be financed in the mortage or paid in cash. The borrower applies for the loan with a participating lender, or works with the tribe and the Bureau of Indian Affairs if leasing tribal land. The lender then evaluates the necessary loan documentation and submits the loan for approval to the HUD Office of Loan Guarantee.
The Section 184 Loan Provides You with Numerous Options to Suite Your Needs:
Purchase of an existing home
Single-close construction loans for a stick-built or a manufactured home on a permanent foundation
Rehabilitation loans
Purchase and rehab
Refinancing
Contact Nick today to discuss your specific situation, and how he can assist you with taking advantage of the options available. CALL (989) 600-9806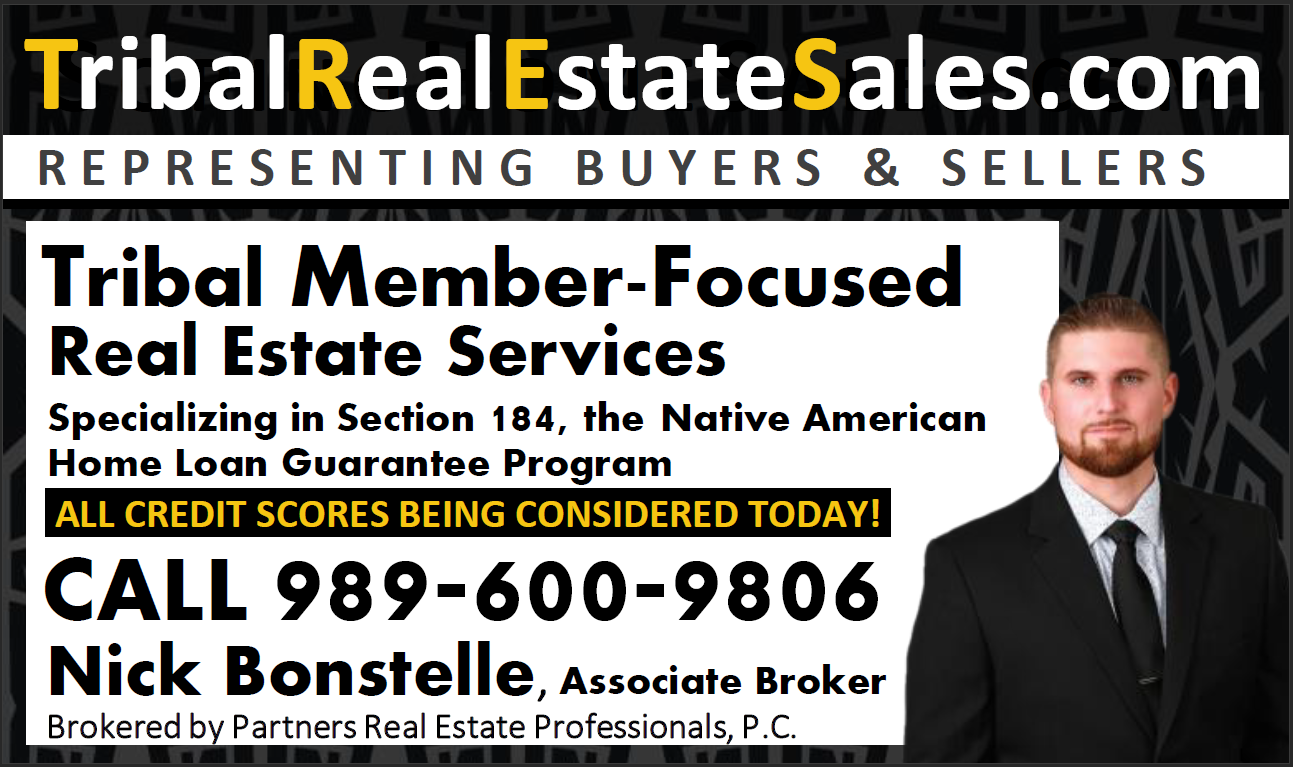 SOARINGHOMESALES.COM

has become a favorite search for homes and land for sale in Central and Northern Michigan
Is your dream property sold before you even had a chance to tour it?
Nick can help. Find out how you can gain free VIP access to the largest inventory of homes for sale and land for sale that are coming soon to the market
GUIDING YOU TO BETTER RESULTS
Service Unique to You
Helping you buy or sell your home starts with gaining a thorough understanding of your needs, wants, and goals.
Quality of Service
Unparalleled industry knowledge, and local expertise. Representing both Buyers and Sellers with an unrivaled client-focused guarantee.
Professional Service
Nick's dedication to professional service and integrity ensure his clients will have the best outcome possible.
Explore the area with a local expert!
Use our local guides to explore market trends, new listings, schools, and top businesses within the areas that interest you.

Absolutely the best real estate experience ever. Nick was a gem to work with. Will be my go to for any future real estate transactions. Highly recommend

We had a great experience buying (a short sale) and selling our current home. He was always just a phone call away. We highly recommend him!

Working with Nick Bonstelle has been very rewarding. Nick made the home selling experience, a pleasure and was helpful in the transition to our meet our family goals.
Why Choose Nick
Professional, Local, Client-Focused Realtor®
Traditional Values with an edge for today's urgency.
Extreme Marketing
Your home or land sells faster and with higher returns
With Nick's proven system.
Your Best Experience Guaranteed
Nick's business is mainly based upon client referrals.
He guarantees you the best real experience or you can cancel your agreement with him, at no cost to you.